At first glance, the Washington Post story seems to be a rather routine piece about a turf war between state officials and the federal government over disaster planning. But upon closer examination, it turns out to be a doorway into the dark, fetid heart of the Bush Regime's hell. As the Post's Spencer Hsu reports:


A decision by the Bush administration to rewrite in secret the nation's emergency response blueprint has angered state and local emergency officials,
Read more»
Money been on me all my life
Left my children hungry, withered my wife
Kept me strapped to a grindin stone
Money oh money won't leave me alone

Sorry to be so crass, but due to the completely inexplicable fact that no well-heeled news outfit has picked up the prose stylings of your correspondent following not one but two ash-cannings in the last 12 months, we are
Read more»
Our text for today is from the Guardian: Freed doctor describes torture ordeal inside Libyan jail.


The Palestinian doctor who was held in Libyan custody along with five Bulgarian nurses on charges they infected hundreds of children with HIV, has described in detail how they were tortured during their eight-year ordeal. Ashraf Alhajouj, 38, said he was beaten, held in cages with police dogs and given electric shocks, including to his private parts. He said that he and the nurses were sometimes put together naked in
Read more»
From AP, July 21:
Aircraft fired missiles and dropped a bomb in a Shiite stronghold in northeastern Baghdad, killing six militants, the U.S. military said Saturday. Iraqi officials claimed a higher death toll, saying 18 civilians were killed.
The Husseiniyah airstrikes began after American forces came under small-arms fire from a building just before midnight, prompting helicopters to fire missiles at the structure, the military said, adding that three of the gunmen fled into another building.Aircraft dropped a bomb that destroyed that
Read more»
On July 22, the State of Tennessee will honor one of its most distinguished citizens in a ceremony inaugurating the Edsel Cordell Floyd Bridge in Watertown. The bridge, which spans Round Lick Creek, is part of Highway 70, the two-lane road that threads the center of the state from the mountains of East Tennessee through the rolling hills of Middle Tennessee to the flatlands of Memphis and the Mississippi River.<br
Read more»
Here's a quick follow-up to the previous post: The Legal Pervert's Parade: Executive Privilege Über Alles.

Sara Robinson at Orcinus gives us a glimpse of what could be coming as the unrestrained executive tyranny rolls on in Are We There Yet? She examines the new Executive Order quietly signed by Bush this week, in which he bestows upon himself — and designated minions — the arbitrary power to seize the assets of anyone whom he decides "poses a significant risk" of commiting violence aimed at
Read more»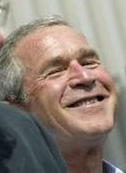 Just in case you haven't noticed before, the United States of America has become a presidential tyranny. We've been clanging this bell here (and elsewhere) since late September 2001, and have seen it confirmed over and over through the years — with torture edicts, domestic spying, rendition, secret prisons, indefinite detention of uncharged, untried captives, etc. — and most recently and most baldly with the "Military Commissions Act," which enshrined the principle of arbitrary presidential power in law and gutted the ancient
Read more»