Juan Cole relays the news that American forces has kidnapped another Iranian in Iraq. The occupation army claims the captive is an arms smuggler from the Revolutionary Guards; but the Kurds — America's main ally in Iraq — say that he is a legitimate trade official from an Iranian province. Professor Cole lays out the absurdities:


Either the US suspicions about [Aghai] Farhadi are baseless, or the Kurds are the major conduit for Iranian arms into Iraq. Five other Iranians were kidnapped from Irbil by the
Read more»
A Nation on the Edge of the Final Descent (I): Glimpses of the Horrors to Come

Arthur Silber speaks, and you should listen. Go there now, read the whole thing. And while you're there, drop a coin in the plate to keep this unique and vital voice sounding in our growing night.

Below is a brief excerpt, but don't deny yourself the power and insight and context of the whole piece (and the many links Arthur provides).


<div style="margin-left:
Read more»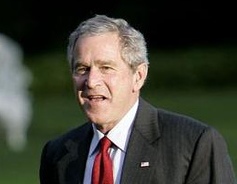 How many times must a duck go "quack," before you call it a duck?
– with apologies to Bob Dylan.


The Senate has failed to move forward on a bill to restore the ancient right of habeas corpus to captives of the Bush Regime's Terror War, many of whom have proved to be innocent people — sometimes kidnapped, sometimes sold into captivity by bounty hunters — caged without legal
Read more»