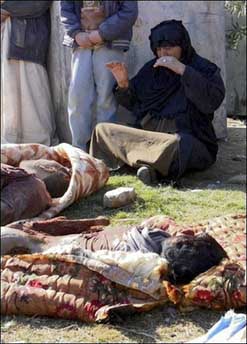 On the anniversary of the first great war crime of the 21st century — the unprovoked, unnecessary, illegal ground invasion* of Iraq by the United States and its lap-dog "Anglosphere" allies Britain and Australia, and a few other minor accomplices in mass murder — Yifat Susskind at American Forum (via Antiwar.com) tells us what this "liberation" has brought to Iraq's women:
If you haven't thought about the Iraq War as a story of U.S. allies systematically torturing and executing women, you're not alone. Likewise, if you were under the impression that Iraqi women were somehow better off under their new, U.S.-sponsored government.

In the spring of 2003, Fatin was a student of architecture at Baghdad University. Her days were filled with classes and hanging out in her favorite of Baghdad's many cafes, where she and her friends studied, shared music, and spun big plans for successful careers, happy marriages, and eventually, kids.

Today, Fatin says that those feel like someone else's dreams.

Soon after the U.S. invasion, Fatin began seeing groups of bearded young Iraqi men patrolling the streets of Baghdad. They were looking for women like her, who wore modern clothes or were heading to professional jobs. The men screamed terrible insults at the women and sometimes beat them.

By the fall, ordinary aspects of Fatin's life had become punishable by death. The "misery gangs," as Fatin calls them, were routinely killing women for wearing pants, appearing in public without a headscarf, or shaking hands and socializing with men.

As the occupying power, the U.S. was legally obligated to stop these attacks. But the Pentagon, preoccupied with battling the Iraqi insurgency, simply ignored the militias' reign of terror.

In fact, some of the most treacherous armed groups belonged to the very political parties that the US had brought to power. By 2005, the Pentagon was giving weapons, money and military training to these Shiite militias, in the hope that they would help combat the Sunni-led insurgency.

This fact cannot be stressed enough — and therefore, it is course almost entirely ignored in our national political "debate": the United States very deliberately empowered some of the most violent, retrograde elements in Iraqi society (many of them militias formed, trained and armed by Iran), and then helped them carry out one of the most savage "ethnic cleansing" campaigns since World War II. The Americans did this because they hoped that the extremists would trade the power and perks that Washington had given them for a permanent U.S. military presence in Iraq sweetheart deals on oil, and crony contracts out the wazoo. And despite all the talk of "drawdowns" and deadlines, all three of these aims are still very much in play. In fact, the last one — the continuation war pork the for war profiteers back home — is a dead certainty, with billions of arms deals for the new Iraqi military already in the pipeline, joining the hundreds of billions already funneled, by hook, crook and no-bid contract, into the bipartisan elite's favorite corporate troughs.
Susskind has more on what this bloodsoaked boondoggle has wrought for Iraq's women:
While the Pentagon was arming militias bent on brutally ousting Iraqi women from public life, the U.S. State Department was busy brokering the new Iraqi Constitution. Hailed as "progressive" and "democratic" in Washington, the new Constitution designates religious law, which discriminates against women, as the basis of all legislation. It also restricts women's rights by upending one of the most progressive family status laws in the Middle East — a law that Iraqi women fought for and won in 1959, before Saddam Hussein took power.

For Fatin, the bitter irony is that her new Constitution, courtesy of the USA, destroyed women's rights that were once guaranteed in Iraq, even under the brutal regime of Saddam Hussein.

Fatin has now been out of school and unemployed for more than three years. Her mother, a pharmacist, and her aunt, trained as a veterinarian, have also been unemployed for years now and are too afraid to try to find work.

But Susskind notes that Iraq's women are not just passively accepting the dire fate that Washington's dominationist lusts have imposed on them:
Here in the U.S., we've rarely heard the story of the Iraq War told from the perspective of women. So what are Iraqi women saying on the sixth anniversary of the US invasion? The same thing they've been saying since 2003: end the occupation. Polls consistently show that a majority of Iraqis want US troops out….

This week marks six years since the U.S. invaded Iraq. In that time, women have not only faced with mounting violence — they have also organized a movement to confront US occupation and violence against women.

Looking for a way to speak out against the repression she witnessed, Fatin joined the Organization of Women's Freedom in Iraq (OWFI). In partnership with MADRE, an international women's human rights organization based in New York, OWFI has worked to promote women's human rights, creating a network of women's shelters to protect women fleeing violence.

The women of Iraq are creating the foundation on which a peaceful and just future will be built. It's time we started listening to them.

Listen to them? Why, haven't they heard that the "surge" — which escalated and extended the American war crime in Iraq — "succeeded beyond our wildest dreams," as Obama himself has told us? Sure, a million dead, four million displaced, women forced back into darkness and violence, yadda yadda yadda — but that's the price of success, baby! And you don't mess with success!
*Note: We specify the "ground invasion" that began on March 20, 2003, because of course the United States and Britain had been carrying out a relentless air war against Iraq for many years, to the extent that Air Force officials were complaining "there's nothing left to bomb." This aerial assault was in addition to the truly horrific economic blockade of Iraq led by the United States, which top U.S. officials themselves acknowledged had led to the needless — but "worth it" — deaths of at least 500,000 children by the late 1990s (and countless more in the years that followed.) The United States also sponsored terrorist attacks against civilian targets inside Iraq in the years before the 2003 attack. In short, the bipartisan American war against Iraq began long before the incursion by ground troops on March 20, 2003. Hundreds of thousands of innocent Iraqis had already lost their lives by the time U.S. tanks and soldiers rolled across the border; a million more would die in the years to come.