Written by Chris Floyd
11 July 2005
4040 Hits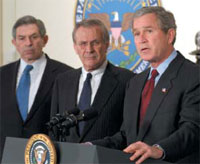 Bob Herbert, who has been incandescent for months now, usefully reminds us of the comedy routine that Bush performed for a sycophantic audience of TV and radio "journalists" back in March 2004: the infamous "hunt for WMD" in the Oval Office. As you'll recall, this was a series of cutesy shots showing Bush peering behind the office curtains, looking under the rug while cracking wise: "No weapons of mass destruction under here! Maybe they're over here?" and so on.

I thought then – and still think – that this performance was one of the most revealing – and sickening – episodes in American political history. The cynicism of it defies belief, outstrips all comprehension. Imagine sending men and women to die – and to kill – in a war over weapons of mass destruction, then joking about the fact that no weapons were ever found. All this, while thousands continued to die, including your own soldiers.

The fact that Bush would engage so openly in such murderous cynicism was a telling revelation: it showed, or rather confirmed, that America was being led by a brutal, mocking, heedless Caligula, a spoiled, shallow, vain and selfish fool, a moral psychopath incapable of ordinary human empathy. The reaction of the "journalists" present was another soul-sinking revelation: they laughed. Oh, how they laughed. "What a kidder this Dubya is, eh? What important insiders we all are – real players, tough and savvy – sharing this special moment of "knowing" laughter with the president!" As far as I know, not a single person walked out in protest, not a single "journalist" refused to take part in this open mockery of the dead – our own, and the tens of thousands of Iraqis who had died for the WMD chimera that Bush now found so funny.


Add a comment
Read more: Killing Joke: The Day the American Republic Died